SWIM SPA CONCRETE PAD
Choosing the right foundation for your swim spa is imperative. Choosing the wrong place to put your swim spa can lead to a number of long-term issues. Placing your swim spa in the wrong spot will inevitably lead to a very expensive repair bill, create an unsafe environment for you and your loved ones, and in some cases, even make your swim spa unusable. However, understanding your options for swim spa foundations will give you the knowledge to avoid these incidents.
PLACING YOUR SWIM SPA ON CONCRETE
Concrete is the best option for a swim spa foundation. Concrete is strong and provides enough support to your swim spa, which weighs a tremendous amount. People who opt for a concrete foundation typically have the concrete poured as part of a patio, but it's possible to have a slab of concrete poured specifically for your swim spa if this is the option you like the most.
What is a swim spa?
A swim spa is a combination of a swimming pool and spa. It is smaller than a full-size swimming pool and larger than a standard hot tub. Allowing for size, they can be installed anywhere a standard hot tub can, so they can be used indoors or outside. By using powerful pumps, a swim spa creates a controllable current that allows you to swim in place; or sit back and enjoy the relaxing benefits of hydromassage via dozens of powerful jets.
Go With The Pros
Concrete Indy Is the top concrete contractor in the Greater Indianapolis market. We have a proven track record and excellent reviews. We would be more than happy to install your Concrete Swim Spa pad for your new swim spa. We have completed this project many times in the greater Indianapolis area, and we would be thrilled to build you what you need.
What to know about Concrete Swim Spa pads
Swim Spas are Heavy when they are empty, not to mention when they are filled with water! A small 8-person Swim Spa weighs about 13,533 pounds (For water capacity, 1 gallon of water is approximately 8.34 pounds, and an average weight of 180 pounds per person can be used.) For example, an 8 person, 1450-gallon Swim Spa filled with water and 8 guests would weigh approximately 13,533 pounds. This is more than 3 F150 trucks, just to put that in comparison. If you have Swim Spa, you need to make sure the Concrete Swim Spa foundation is strong, so it can handle the weight. You don't want it to crack under pressure. We build our Concrete Swim Spa pads to withstand the test of time. We cater our concrete spaces to the type and size of Swim Spa. We Typically pour 2-inch gravel layers and compact this layer, so it's nice and strong. Then we will pour 8-12 inches on concrete with rebar or wire mesh. In all of our concrete projects, we use a product called fiber that is mixed in with the concrete, and it is this synthetic rebar that gives the concrete the additional strength to withstand the test of time.
Servicing Greater Indianapolis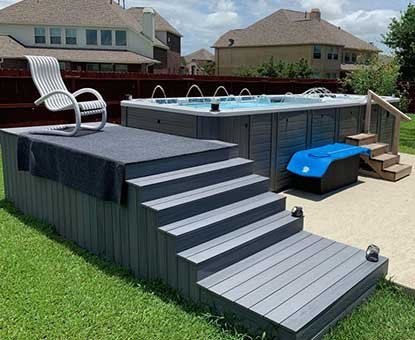 We service all of the Indianapolis and central Indiana area for concrete Swim Spa pads. If you are interested in a free quote, we would be more than happy to come on-site and measure everything up and get you a free quote. If you are located within 50 miles of Indianapolis and are interested in concrete Swim Spa pads for a Residential Project, we provide a vast amount of service in the following Indiana locations: Carmel, Fishers, Noblesville, Greenwood, Avon, Plainfield, Brownsburg, Westfield, Shelbyville, Indianapolis, Speedway, Beech Grove, Zionsville, and McCordsville. Concrete Indy would be more than happy to be your Greater Indianapolis concrete Swim Spa pads contractor. Call us or fill out the lead form below, and we will reach out to you to schedule an estimate.
schedule an estimate