Indianapolis Concrete Patio Contractor
We are Indianapolis and Central Indiana Concrete patio contractor. We have the best reviews on Google, Facebook, and HomeAdvisor of any concrete patio contractor. We have the experience, knowledge, and professionalism that give us the edge over our competitors when it comes to concrete patios. We do everything in-house with our own cruise. Many of our competitors subcontract, which is a red flag that is going to cause you to overpay for your concrete patio. By using our own crew in the construction of your new patio, we are able to control the quality and provide the highest possible concrete patio quality as well as control the cost giving you the best price point on a concrete patio. There are many options when it comes to a concrete patio, and we would love to work with you to create a beautiful, elegant, one-of-a-kind patio.
Concrete patios can come in an array of different finishes. First off, you can have your standard broom finish concrete for your patio. This is what most of the world has, and when it's done right, it can look super crisp and clean! The next option with just a little bit higher price point is the exposed aggregate concrete patio. This has a super cool look. Feel free to take a look at our decorative finishes to get a better view of this concrete patio finish. The next option price point-wise would be the decorative seamless concrete patio finish. This will get your concrete to look like rock or stone. Your guest will love it, and they won't even believe that it is concrete. That's how good this finish looks. But the best possible concrete finish would be the decorative inch or get-stamped concrete patio. There are many options to choose from, so check out our decorative stamped page to see all of them. The decorative inch or get-stamped concrete patio will give you an individual stone, brick, or wood plank look. This concrete finish will take your patio to a whole new level. Keep in mind whenever you're choosing a stamp, you're also choosing the color scheme. Typically, you're looking at a two-tone color, a lighter color that is mixed into the concrete, and darker color that is a releasing agent which is added on top of the concrete and inserted inside the grooves in crevices. This process gives you an amazing two-tone color look for your concrete patio.


If you're looking for something a little more than just the broom finish concrete patio, the easiest way to get something a little more extravagant is to just add color to the concrete. There are many colors to choose from, and this can really make your concrete patio pop. Keep in mind that whenever you add color to the concrete, you pretty much have to seal the concrete, so this could add an additional cost, but it's going to protect your concrete as well as give you a nice bright, rich color. If you're interested in a free concrete patio quote, click the link below. We'd be more than happy to come on-site and give you our insight on your concrete patio project.
free concrete patio Quote
How a Concrete Patio is Built
Let's talk you through the process of how we would build you your brand new concrete patio for your home. First off, we need to decide where you want it and the shape you want it in. We have plenty of flexible forms, and we can match any size or shape that you deem necessary. Once we have the dimensions for the concrete patio, we're going to move forward on digging up the ground that we need to remove. The concrete itself is going to be 4 inches thick. If for some reason, you want a concrete patio thicker, we can do that, but the standard thickness for a patio is 4 inches. Under the concrete, we use a stone base. We use 53 stones which are thicker stones and compacts very well. Some of our competitors use Pea gravel or sand. These products are cheaper, but they will wash away in time and cause weakness in certain areas, and this will later cause still cracking. Also, be careful as some of our competitors won't use gravel, stone, or sand; they will cut corners by pouring the concrete directly on the ground. We do not cut any corners. We would complete your concrete patio exactly how we would do it if it was my own. We need to dig down about 5 inches. Once we've dug down 5 inches, we can put down 2 inches of 53 stone. We will run the compactor back-and-forth over the stone to produce the strongest possible base. This is the most important part when performing any concrete project. If you have a weak base, it will lead to issues with your concrete down the line. But if you don't cut any corners and build a strong base, this will ensure that you have a strong, secure base for your concrete patio. Now it's time to set the forms and make sure our grade is right on point.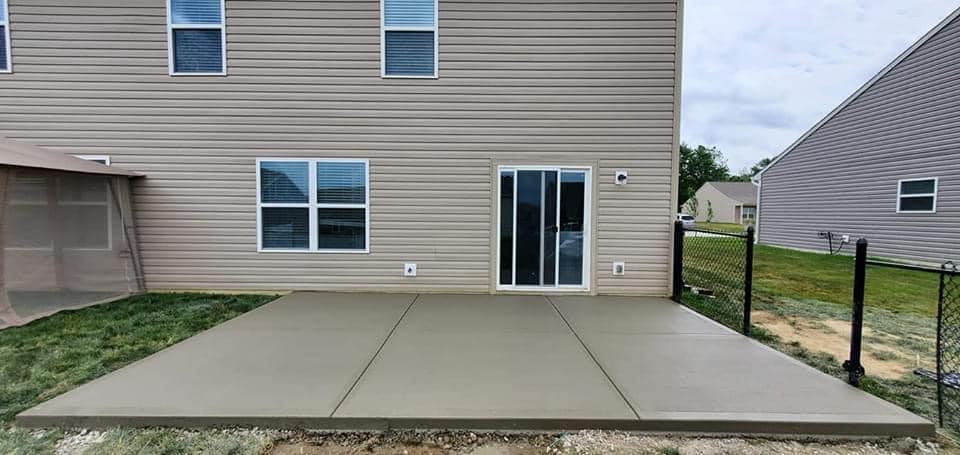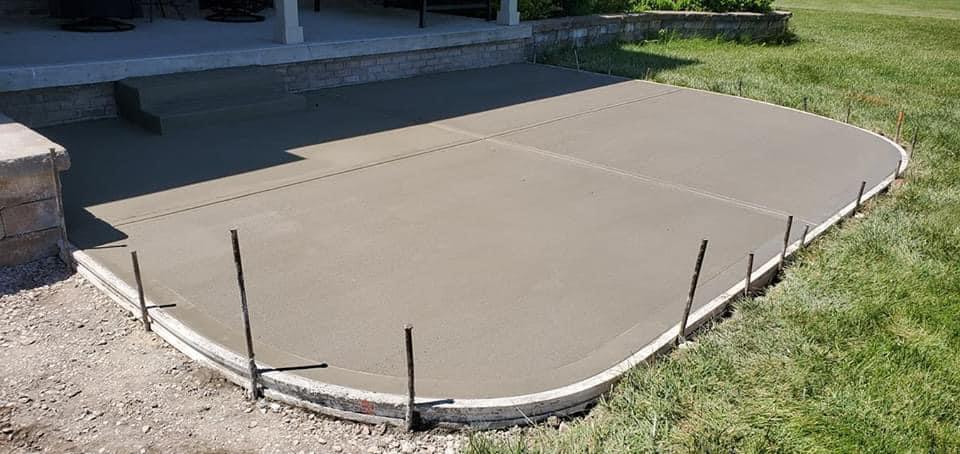 One of the most important parts when producing your concrete patio is making sure the grade is perfect, and the water runs away from your house. We don't want any areas that hold water or push water towards your house. This is an essential step that we take seriously. We check the grade many times to ensure we don't have any issues with this. Now we're ready for concrete. We will order concrete from a high-quality concrete producer and have it delivered to the job site. We don't cut any corners, and since we will perform your job just like we would our own, we add synthetic rebar, also known as fiber, to all of our concrete projects. This is going to give us the strongest possible bond for the concrete patio. This will decrease any chance of cracking the concrete now or in the future. We have a great group of finishers here at Concrete Indy, and we only hire the best because they play a vital role in the production of the concrete patio. Any mistake they make will last forever. This is why it's important to have high-quality, experienced concrete finishers on your team, and we do. We will have them working for you. Once the concrete is flat, and we've checked the grade to ensure there is no room for error. It's time to start either moving forward with a decorative finish and or a broom finish. If you went the broom finish approach, it would be time to cut Control joints and take a fine-haired broom and run it over the concrete to give you a nice clean texture. After this is done, we'll use a hand tool, and this will give you that perfect picture-framed border. If you decide to move forward with a decorative finish, feel free to check out our decorative concrete and stamped concrete page for more information. The decorative finish definitely requires more time and more materials, but if you've seen our work, then you would know it's worth it!
You probably have a much better understanding of concrete patios by this point. I would also strongly recommend a concrete sealer to protect your concrete patio as well as give it a nice beautiful bright color. If you have any questions regarding concrete patios and would like a free quote feel free to click the button below or give us a call; we'd be more than happy to come on-site and evaluate your project to find the best possible solution for you and your home!
free concrete patio Quote
Decorative & Stamped Concrete Patios